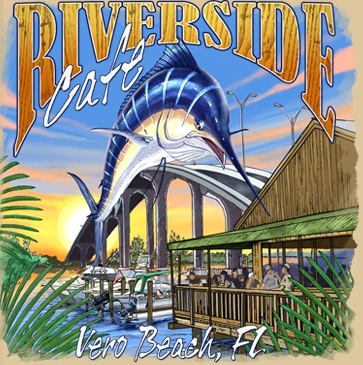 We are currently seating walk-in guests only.
772.234.5550.
Print the Riverside Cafe Menu.



About Riverside Café

The Historic Riverside Café has always been and will always be sitting pretty alongside the Indian River Lagoon in Vero Beach, Florida.

The Riverside Café is so much more than just a hometown restaurant and sports bar with a great location. Riverside's cuisine is excellent. The Café offers a wide variety of foods, from comfy finger foods and classic sandwiches to more intimate semi-formal entreés of fresh fish and steaks. Check out our menu and see for yourself. If you have any questions regarding our menu, then be sure to ask your waitress. We take pride in training our staff with the most knowledgable and courteous service possible.

The Riverside Cafe has one of the best bars in Florida, if not the best. Just the view alone during an evenings sunset is worth the drive from anywhere. Arrive with your dinner party by boat and you may dock it for your visit at our free dockage. We also offer monthly dock space rentals. Our newly renovated landscaping and parking areas are prettier and more accessable than ever.

Chef Brandon Howard is in charge of the kitchen and has been cooking up delicous dishes his whole life. He began his culinary career as a young boy at the Famous White Cap Fish Market and Restaurant located in Islip, Long Island, New York. For the last decade he has been in charge of the cuisine at the renowned Dockside Grille and Jasmine Restaurants, both located in Vero Beach Florida.

The bartenders are on-top-of-their-game and serve really cold drinks fast and friendy, our bars are equipped with tap lines that chill our beer to 33 degrees, ensuring each domestic, imported, or craft draft beer is perfectly chilled. We accomodate all kinds or occasions and we would love
to host your dinner party with us.

Our 35 large high definition TV's screens with BOSE Sound capture every sport imaginable and are ideal for football season, especially with our Direct TV NFL Package and College Football Packages. We will have every game on. Check out our Events Calendar for our upcoming bands, contests, and more. The next time you would like to unwind in a great atmosphere with friendly people, come see us at the Riverside Café.